Florida: Spring Break 2005
Iâve been on vacation for a week now, and I think Iâve finally stepped back from my life enough to get some perspective. The airplane Iâm on is traveling from Chicago to Kansas City and itâs the second leg of a four-leg trip home from Miami to San Francisco that in the end will have lasted more than 24 hours. Needless to say, this long journey home has tainted my evaluation of this vacation. Overall it gets a âC,â with a few moments clearly deserving âFâ status.
But there were some amazing and valuable highlights. It was so good to see Keith again after almost two years since he moved to Florida. Walking into the fancy investment bank where he is creative director made me very proud of the grace with which he undertook the big transition that began when CSFB laid off Keith and so many of their employees.

His apartment on an island on Biscayne Bay has amazing views of Miami Beach. From the balcony on the 24th floor, we could see many condo towers on the narrow spit and sail boats fluttering up and down the shore.

Miami is an interesting place. It is experiencing a huge boom in construction of office towers and hotels, but even more than that, the build-up of condo towers is truly unbelievable. There is no place anywhere near downtown Miami or South Beach that doesnât have a view of cranes lifting pieces of a building into the sky. I heard from a local person that construction firms canât get enough cranes down there and theyâve started to import them from the West Coast.

Itâs hard to imagine that thereâs enough economic growth to support all the construction. The more I think about it though, itâs probably very normal for so much construction, only my experience living in the Bay Area has warped my view. For the past two decades San Francisco and its neighbors should have been growing just as rapidly but growth controls have slowed the pace of development. Combined with disincentives for local governments to encourage housing, this has resulted in a housing crunch of epic proportions. We have got to tackle this problem if we donât want to stagnate.

But I want to write about more of the highlights. Jay and I stayed with Keith the first couple days and got to know South Beach fairly well. It wasnât really what I expected. On the plus side it had some amazing art deco architecture, especially the hotels on the waterfront. I only went inside one of them, the Victor, but I was knocked out by the opulent lamps, flooring and artwork. I loved how overdone it was, with vibrant colors and inventive geometries everywhere. Deco is really quite silly, and I love that.
However, South Beach was the equivalent of San Franciscoâs Fishermanâs Warf. Itâs a unique outgrowth of the city, but its denizens are almost wholly tourists. The restaurants in the area have resorted to automatically including gratuity with the bill, which seemed outrageous to both Jay and myself.
South Beach really didnât seem like a neighborhood. It didnât help that we were there during Spring Break. There were tons of college aged kids primping and strutting up and down Washington Ave. (omg, I have aged in the past year! Iâm such a snob!) What bothered me most was that the vibe was almost exclusively hetero, something I had not expected. It seems that while Miami in general and particularly South Beach have become more âstraightâ (sorry to my friends who donât like that term), Fort Lauderdale has become increasingly gay.
So on the whole, although South Beach had many things that San Francisco lacks, like gay bars and clubs that are much bigger than my apartment, itâs also missing the critical mass of being the gay center of the universe. You know itâs a good vacation when it makes you appreciate where you live that much more.
Also, I found it to be less friendly than my home town. Maybe some of that was my own attitude, but I think Iâm a pretty open person most of the time, and I was put off by the vibe in every part of Florida we visited, which was admittedly a limited area.
But back to the positive: one day, Keith took us sailing. We had so much fun that day. You can see from the pictures that we put the boat in the water, cast off and tooled around most of Biscayne Bay. There wasnât a lot of wind but there was enough to move us around and it was just a fantastic time. My favorite part was keeping the leading sail taut and learning how to tie the line off with an efficient knot.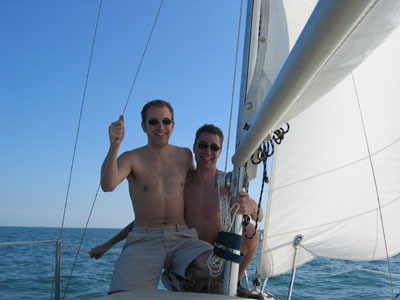 Itâs amazing how old technologies are sometimes the best. There werenât a lot of sail boats in the bay. Most people preferred the large engine speedy boats, but they seemed to loud and fast-paced for me. Plus they scared away the dolphins. Weâre hoping for a longer trip next time we visit. Maybe all the way down the Keys.
The second stage of our trip was in Key West, which is the last in the long curving chain of small islands that sweep southwest off the tip of the Florida peninsula. Itâs a resort town with lots of charm, and was a pleasant break from the faster pace of Miami. The drive down wasnât without its problems, but we arrived in time for a bit of fun that night on Duval Street, the main drag on the island.
We had appetizers at a Mexican restaurant on Duval Street. Our table was in the open air near the street so we got to watch the families, young couples and aging hippies walk by. Nary a âfamilyâ member to be seen. We split a pitcher of margaritas and enjoyed ourselves. Afterwards we jumped from bar to bar. At kitchy Bourbon Street Bar, we danced a bit and watched the pool volleyball game by the outside bar. The other bars in Key West are disappointing. One in particular comes to mind as a bit creepy. Itâs a strip bar, so it has that going in its favor, but itâs also has a âpetting zooâ that charges admission. Great view, but no thanks!
The next day we made the long walk to the Zachary Taylor State Park. We lay on the beach and swam a bit, and we saw the cruise ship that we had sailed by in Miami heading out to sea. Those things are huge!

We also saw lizards mating. Here's a delightful picture.

That night we had a delicious pizza. It had pineapple, ham and jalapenos. Yum. There were more people out and about that night (Monday). At the Bourbon Street Bar, they were playing The Incredibles on a large screen by the pool. We watched that then bar-hopped across the street to Aqua where a Karaokefest was underway. The drag queen MC was very entertaining, but the talent tended toward honkytonk and I just wasnât that enthused, although there was one very talented young lady who sang. (I didn't have the camera with me but I gave my email address to a guy who took some picture so if he ever gets back to me, you'll be able to see them.)
We ran into a big crowd of fags from Michigan and Jay and I decided to divide and conquer. He hung out with a blond guy from South Africa and a very drunk guy from Chicago who started ranting about Detroit and how he wouldnât go into the black neighborhoods. From what Jay tells me, he was spouting a bunch of racist crap. Iâm glad I missed it.
I hung out watching the Karaoke with some other guys, including two studly guys who clearly wanted to take me home. Also there was a cute tall guy who sang a duet with the drag queen, Summer Lovinâ from Grease. After the duet the drag queen comes up to me and tells me that the DJ has his eye on me. I had checked him out and there was clearly mutual interest. But his boyfriend was in the bar. So the drag queen ran back and forth shuttling questions and answers that got increasingly personal. âAre you single? How long are you here for? Top or bottom?â This was happening between the drag queenâs MCing duties. That was when Jay found me and we decided it was time to go.
The next day, after enjoying delicious Cuban sandwiches, we drove back to Miami. This time we stayed in a hotel in downtown. That night we went to South Beach again, this time to some hoity toity âgatheringâ at a nice bar in Lincoln Road. The party was behind the bar in a courtyard that resembled the outside area at La Scalla more than a little. The people there were all wearing fancy button up vertical striped shirts. They were soooo stylish and successful. One was a chef at the best restaurant in New York. One was an investment banker. And I didnât care to talk to any of them! I had had it with Miami attitude, I was ready to go home.
Itâs now Saturday. Iâve been back for a few days. On the final day of my trip, we saw a protest by Haitian democracy supporters in front of the Canadian embassy. But that story will have to wait.

Posted by cbsisco at March 26, 2005 11:01 AM